The GOP has Abandoned the People for the Favor of a Defeated Trump
Information on Novel Coronavirus
Alert: FBI Reports Armed Protests Planned for All 50 States
A bombshell report this afternoon from ABC News: "The FBI has 'received information about an identified armed group intending to travel to Washington, DC on 16 January. They have warned that if Congress attempts to remove POTUS via the 25th Amendment a huge uprising will occur,' according to a bulletin obtained by ABC," reports Aaron Katersky.
A reporter at today's COVID-19 briefing said alleged insurrectionists plan an action at the Capitol on January 17th.
"We need to bat 1K every day and trust that those who do show up do so in a peaceful manner," said State Police Colonel Pat Callahan.
And this, from ABC reporter Josh Margolin:
"FBI now reports in a bulletin 'Armed protests are being planned at all 50 state capitols from 16 January through at least 20 January, and at the US Capitol from 17 January through 20 January."
The FBI is seeking information that will assist in identifying individuals who are actively instigating violence in Washington, DC. The FBI is accepting tips and digital media depicting rioting and violence in the U.S. Capitol Building and surrounding area in Washington, DC, on January 6, 2021.
At his COVID-19 briefing today, Governor Phil Murphy honored the late Officer Brian Sicknick, a New Jersey native who lost his life last week in the mob violence incited by President Donald J. Trump at the United States Capitol.
He also decried those who refuse to identify and condemn those perpetrating the heinous act of treason.
"When you excuse their actions, you empower them to act again," said Murphy.
Have general questions about COVID-19?
The NJ Poison Control Center and 211 have partnered with the State to provide information to the public on COVID-19:
Call: 2-1-1; Call (24/7): 1-800-962-1253; Text: NJCOVID to 898-211
Visit covid19.nj.gov or nj.gov/health for additional information
Morris County
https://health.morriscountynj.gov/coronavirus
Covid-19 vaccine Town Hall
January 19, 2021 7:00pm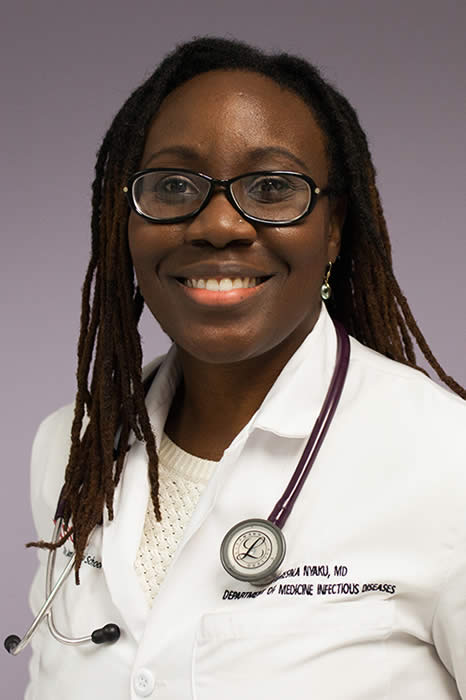 Dr. Amesika Nyaku is a graduate of the Northwestern University Feinberg School of Medicine. She completed her Internal Medicine residency and Infectious Diseases fellowship at Northwestern University Feinberg School of Medicine. She cares for people living with HIV/AIDS as well as people with general infectious diseases.
Dr. Nyaku has a clinical focus on providing HIV care and prevention services with integrated medication assisted treatment for substance use disorders. Her research interests are novel HIV therapeutics and improving HIV care for individuals with co-occurring substance use disorders. She is involved in HIV prevention and treatment trials through the New Jersey Medical School Clinical Research Center.